Erosion Control: Terraseeding™
EcoBerm® | EcoBlanket™ | MicroBlend™ | Terraseeding™ | Filtrexx™
Terraseeding™ is the calibrated incorporation of seed into the compost material during the EcoBerm® and EcoBlanket™ application process. This is an innovative process that has been developed by Rexius and now widely used for various applications in landscaping and erosion control. Simply described as "Seeding" with "Soil", the process has several advantages over other seeding practices in the erosion control industries.
ADVANTAGES FOR ECOBERM®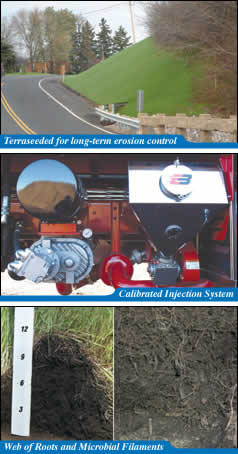 • Terraseeding™ enhances the structural integrity of the berm with root establishment.
• Provides additional filtration capabilities as vegetative growth and root systems up take nutrients from the runoff.
• Establishes a "green" berm that blends into the surrounding natural landscape.
• Can be left as a permanent part of the landscape.
ADVANTAGES FOR ECOBLANKET™
• Terraseeding™ provides additional stability of the compost blanket.
• Can incorporate many types of seed such as wildflower seed, native grasses and other erosion blends.
• Seed is "planted" rather than being sprayed on top reducing exposure to the elements and wildlife.
• Provides long-term vegetative erosion control in addition to the immediate control provided by the blanket.
• Lowers overall project cost by combining several line-item specifications into one complete step.
• Combined with Microblend™ in the EcoBlanket™, the germination or success rate of the seed application is greatly increased.
Terraseeding is a trademark of Express Blower, Inc.

To watch the videos,
click the photos below.
You must have the latest QuickTime plug-in. If you do not have the plug-in, you can download it here.
Watch the Video: