Erosion Control: Microblend™
EcoBerm® | EcoBlanket™ | MicroBlend™ | Terraseeding™ | Filtrexx™
What is Microblend™?
Rexius Microblend™ is a blend of natural and biodegradable organic ingredients that: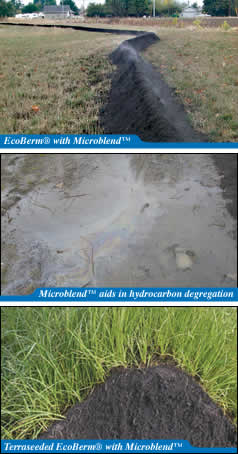 • Aid in immediate stabilization of compost/mulch material within the EcoBerm® and EcoBlanket™ profile.
• Enhance the ability of the EcoBerm® and EcoBlanket™ to bond with the soil surface.
• Provide long-term nutrient resources for the proliferation of specific hydrocarbon degrading bacteria found in compost.
• Provide long-term nutrient resources for the propagation of structurally enhancing fungi and actinomycetes, and bacteria that excrete soil bonding substances.
• Increase the colonization of beneficial fungi within the root zone of a Terraseeded berm to further enhance its filtration capabilities.
Why is Microblend™ important?
Microblend™ is a common component in all EcoBerm® and EcoBlanket™ construction that helps standardize installation and performance. Microblend™ has unique characteristics that work directly with the compost materials making it possible to achieve the results that were reported at the San Diego State University's Soil Erosion Research Laboratory. With all components of the system combined, we can repeat similar results from one application to the next.

To watch the videos,
click the photos below.
You must have the latest QuickTime plug-in. If you do not have the plug-in, you can download it here.
Watch the Video: