Products
Mulch/Ground Cover
Products | Mulch/Ground Cover | Soil | Compost/Soil Amendments
|
Bedding Materials | Gravel/Sand/Loam | Erosion Control


StablePeat™ is 100% organic premium mulch and soil amendment made from ingredients harvested from local horse stables. It's peat like texture and rich dark color make it the perfect visual enhancement in any landscape design.
More information here –>>
StablePeat™
Premium Pine/Hemlock Bark Mulch
Premium Pine Hemlock Bark Mulch is a blend of pine and hemlock bark, it is "sliver free" mulch, which does not irritate your skin with stiff fibers found in other mulch products. Natural reddish brown color, no colorant's added. Free of any growth-inhibiting ingredients. Beautify your landscape applications to aid in weed control, and for proper insulation of plant roots.
Premium Pine/Hemlock Bark Mulch
UltraKote™: Color Enhanced Mulch
Spread UltraKote™ on your landscape to give it a long lasting beauty! Our naturally color enhanced UltraKote™ is environmentally friendly and beneficial for your plants and soil. You can enjoy vivid color and contrast in your landscape all season long! UltraKote™ comes in three colors: Brown, Red, and Black.
UltraKote™
Natural Hardwood Mulch
A basic green waste blend for mulching in the landscape, for mud control in rainy months, or for pathways in natural landscapes. Its coarser texture allows for better wear in high traffic areas.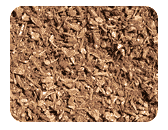 Natural Hardwood Mulch
Bark Fines:
A 3/8″ fine aged, hardwood screened bark that provides you with a smooth finished appearance in your landscape.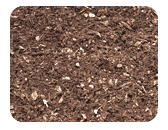 Extra Fine Bark
FIBAR™, Woodcarpet®, and FiberStarr™:
FIBAR ™, Woodcarpet®, and FiberStarr™ are ASTM ADA, CPSC & CSA tested and approved playground safety surface material that meets their guidelines for impact resistance wheelchair accessibility.
FIBAR™, Woodcarpet®,
and FiberStarr™

Products | Mulch/Ground Cover | Soil | Compost/Soil Amendments | Bedding Materials | Gravel/Sand/Loam | Erosion Control

Mulching your flower and vegetable beds will drastically reduce the amount of time spent weeding, watering, and fighting pests.

Plants in a rock garden are generally more exposed than plants in a level bed and may need more protection in winter. It is recommended that mulch be applied before the first freeze.

You can find more tips on our Garden Tips page.
Not sure how much you need to order for your landscaping project? Use our Product Calculator.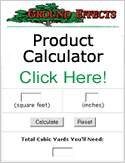 You can find more tips on our Garden Tips page.