Products
Compost/Soil Amendments
Products | Mulch/Ground Cover | Soil | Compost/Soil Amendments
|
Bedding Materials | Gravel/Sand/Loam | Erosion Control


StablePeat™ is 100% organic premium mulch and soil amendment made from ingredients harvested from local horse stables. It's peat like texture and rich dark color make it the perfect visual enhancement in any landscape design.
More information here –>>
StablePeat™
Ground Effects Garden Compost:
Ground Effects Garden Compost is a 100% organic, greenwaste based compost approved for all types of gardening. Not all compost is equal. Ground Effects Garden Compost is produced following stringent guidelines and lab tested for maturity, proper biological balance, and microbial activity.
Ground Effects Garden Compost
Till-In Soil Conditioner:
Till-In Soil Conditioner is an all-purpose 100% organic soil amendment used to break-up heavy soils and add tilth for workability. Just add your favorite fertilizer, and you will have the ideal soil for growing all types of plants and vegetables.
Till-In Soil Conditioner

Products | Mulch/Ground Cover | Soil | Compost/Soil Amendments | Bedding Materials | Gravel/Sand/Loam | Erosion Control

Use Ground Effects Garden Compost to improve garden soils, soil for new lawns, and raised beds for flowers.

Not sure how much you need to order for your landscaping project? Use our Product Calculator.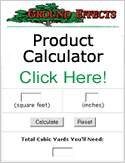 Mix Ground Effects soil amendments with native soils to create rich, balanced, workable soils.

Compost encourages earthworms and other beneficial organisms whose activities help plants grow strong and healthy. It provides nutrients and improves the soil.

Good compost has little or no odor.

You can find more tips on our Garden Tips page.